Sustainability is clearly a fashionable concept that has become part of our everyday vocabulary. Our awareness of the problems caused by the exaggerated level of consumption in our societies, pollution, the management of the large amount of waste we generate, etc. has increased, motivating us to seek a more sustainable world.
We are also aware of the problems created by the use of the planet's fossil resources, such as the production of potentially polluting chemicals, the generation of large quantities of carbon dioxide which accelerates the greenhouse effect, the pollution of air, water and land…
But fortunately, in recent years our consumption habits have been changing. The demand for sustainable products has increased dramatically. According to a study carried out by Oney & OpinionWay, 93% of Spanish consumers say they try to adopt habits related to responsible consumption on a daily basis. And 92% think that both manufacturers and brands from all sectors should be committed to the development of responsible consumption.
Our demand for sustainable and bio-based products as opposed to non-renewable products continues to grow. However, we are often faced with a lack of information as well as a lack of alternatives that direct us to sustainable products in all areas, including cosmetics. Too often we get lost looking for information on the labelling of products, without knowing whether they are actually sustainable or not.
Fortunately, cosmetic companies are now adding products with these characteristics to their catalogue. But they find themselves in the same dilemma: how to show and demonstrate to consumers that they really are, that they have made a real effort to bring truly sustainable products to their consumers.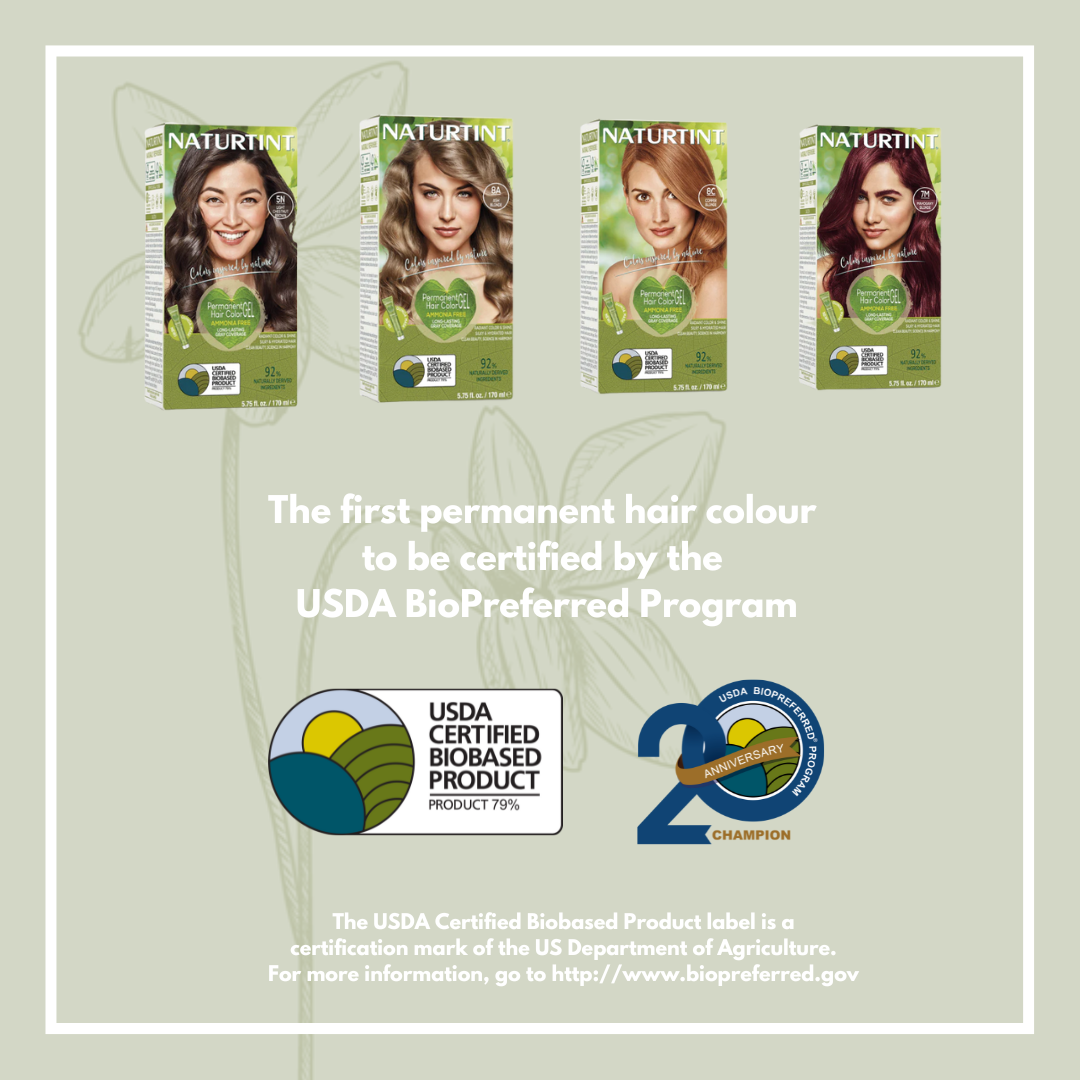 USDA, a Certification Mark for Sustainable Cosmetics
To provide certainty, USDA Certified Biobased Product was created 20 years ago. A prestigious certificate of guarantee granted by the United States Department of Agriculture to biobased products. In other words, formulated from plant derivatives and other renewable agricultural, marine and forestry sources. By consuming bio-based products, we support the use of renewable resources, replacing non-renewable products such as petroleum derivatives.
Bio-based cosmetics are products derived in whole or in part from materials of biological origin, excluding materials from geological and/or fossilised formations. By using biocatalysis and fermentation instead of traditional chemical synthesis for the production of their raw materials, bio-based products can be produced more efficiently, which results in reduced water and energy consumption, as well as a reduction of polluting waste. In addition, by deriving from renewable raw materials, biobased products contribute to the reduction of CO2 emissions.
USDA Certified Biobased Product is also celebrating its 20th anniversary this year. A seal of guarantee that is increasingly present in brands and products that are truly committed to the planet and to consumers. Reducing our dependence on oil and its derivatives, supporting the bioeconomy and improving the environment.
Naturtint, the First Permanent Colouring with Biobased Certification
From the very beginning, NATURTINT's objective was clear. To create a hair cosmetic based on high quality formulas and raw materials, with a high percentage of natural, organic and ecologically farmed ingredients; respecting the environment and thinking about the future.
As a result of its innovation and commitment, NATURTINT is the first permanent hair colour to obtain the USDA Certified Biobased Product certificate, for its high content of bio-based, sustainable and renewable ingredients. This makes Naturtint the permanent hair colour of choice for women all over the world who are looking for softness, shine, hydration and scalp comfort, without forgetting its real commitment to the planet and the environment.
In addition, coinciding with the 20th anniversary of USDA Certified Biobased Product, and thanks to the involvement of the brand, Naturtint has received recognition as a «Champion» brand, for its commitment and dissemination to consumers of this new way of understanding cosmetics. This seal of recognition encourages us to keep moving forward, and we want to share it with all of you.
A commitment that not only focuses on the formulation of Naturtint, but also on the use of 100% recyclable packaging, as well as cases produced with material from sustainably managed forests, with FSC and PEFC certifications.
For more information about the USDA Certified Biobased Product, we provide you with the link to their website: http://www.biopreferred.gov