We are very pleased to be able to offer our consumers the guarantee provided by the ECOCERT certificate, which recognizes that our Dr. Tree products are formulated with a minimum of 99% ingredients of natural origin and that none of them are of animal origin.
Phergal Laboratories, present in more than 40 countries -with 8 firms in pharmacies, parapharmacies and El Corte Inglés-, received on Wednesday afternoon two new awards in recognition of its most ecological line of dermo-pharmaceutical innovation.
On this occasion it was the VPC Green Beauty Awards, in Barcelona, who recognized Dr. Tree with the gold award for Best New ECO in Parapharmacy – for the Dr. Tree Shower Gels – and the bronze award for Best ECO Brand in its entire range.
These awards were collected by Karishma Jeswani Mahtani, Global Marketing Manager of Laboratorios Phergal, and Nuria Navarro Veroz, National Sales General Manager of the company.
Sustainable products
One of the challenges achieved with our greenest brand, and the one we are most proud of, is to have achieved a line of sustainable products, promoting the use of ecological and renewable materials, and thus encouraging a more conscious management of natural resources.
Something we have achieved through the use of green chemistry by formulating our Dr. Tree products in Phergal Laboratories with innovative R&D&I, while protecting the most sensitive skins.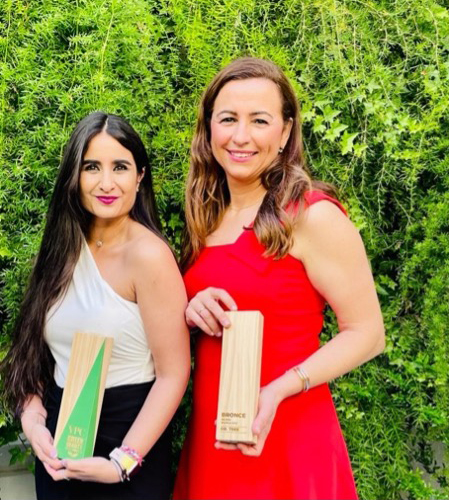 Gold for Best Novelty ECO Parapharmacy and Bronze for Best ECO Brand
During his speech of gratitude for the Gold for Best New ECO Parapharmacy Product for Dr. Tree Shower Gels, Jeswani emphasized the values of this dermopharmaceutical product, recalling that it is a brand «that was born under two fundamental pillars: the most dermatological care for sensitive skin and respect for the environment, with pharmaceutical distribution.«
Thus, always remaining at the forefront of pharmacy and parapharmacy products, and aware that every skin is different, from Laboratorios Phergal we care for all skins with Moisturizing Shower Gel, Nourishing Shower Gel, Purifying Shower Gel and Frequent Use Shower Gel; sensory and foaming, and with unparalleled aromas, with grapefruit, vanilla, white moss and coconut, and rosemary and eucalyptus. 
Corporate Social Responsibility
Dr. Tree products are ECOCERT-certified, which recognizes that they are formulated with at least 99% natural ingredients; that we do not work with ingredients of animal origin; and that our commitment to sustainability extends to the use of biodegradable or recyclable packaging.
Jeswani pointed out that Dr. Tree «is a brand with eco-friendly values and spirit, which contributes to sustainability with its ecological formulas and recyclable packaging, and acquires a commitment hand in hand with Oceánidas and Plant for the Planet in the conservation and respect for nature and the oceans.»
Dr. Tree is a brand that was born in our laboratories in Torrejón de Ardoz, Spain thanks to the Corporate Social Responsibility that we defend in our manifesto and that we practice in all its production phases, with the objective, among others, of reducing the use of plastic in the pharmaceutical cosmetic industry in Spain.