At e'lifexir we seek, through our multi-active formulas, to celebrate real beauty at any age, being present in the daily lives of our users and bringing out the best in each of them, through a healthy life and maintaining a hydrated and firmed skin, with simple and achievable habits for everyone.
Phergal Laboratories, present in more than 40 countries and with 8 firms in pharmacies, parapharmacies and El Corte Inglés, received on Tuesday afternoon a new award in recognition of its extensive experience in dermo-pharmaceutical innovation.
On this occasion, the Beauty and Aesthetics Awards of the spanish newspaper La Razón recognized the e'lifexir brand as a leading company in anti-cellulite products, together with other outstanding careers of 11 professionals and institutions of the sector, in the auditorium of its headquarters.
The award, presented by Francisco Marhuenda, Director of La Razón, and Andrés Navarro, CEO of La Razón, and collected by Karishma Jeswani Mahtani, Global Marketing Manager of Phergal Laboratories paid tribute to the excellence of e'lifexir after becoming the No. 1 in anti-cellulite and slimming products in pharmacies and parapharmacies – certified by IQVIA as the best-selling brand in the anti-cellulite market in 2021 –, thus becoming the most acclaimed product on the market.
During his thank-you speech, Jeswani emphasized the values of this dermo-pharmaceutical brand as the ally of thousands of women in the search for their best version.
«Our consumers confirm this: what they value most in our products is the pharmaceutical experience, which inspires them to change their mindset and try to eliminate and modify everything that does not satisfy them in order to seek a lifestyle that makes them a little happier every day».
A goal that is achieved through skin care at any age with values that allow them to live a more natural day-to-day life through sport and active care that favors a better appearance and a lifestyle that favors our motto of «attitude, confidence and well-being».
How do we achieve this? As Jeswani emphasized, «by looking for dermo-pharmaceutical anti-cellulite treatments, very specific for each area of the body, including the most stubborn areas, with products that restore our skin and moisturize it, achieving its natural smoothness with very soft, sensorial textures, in gel or cream format, remodeling and firming, with a very fresh and light finish».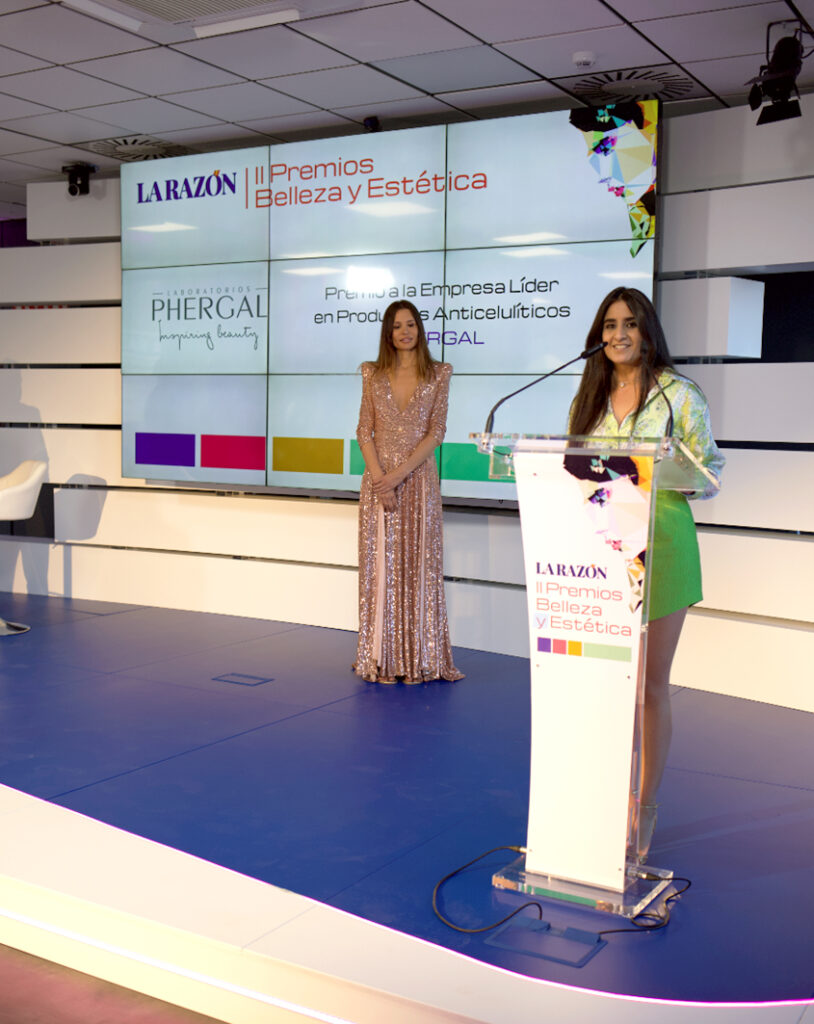 e'lifexir & me
This year, from Laboratorios Phergal, we have launched the e'lifexir & me campaign, an ode to real beauty, following our philosophy of going beyond the creation of innovative treatments with multi-active formulas.
So this recognition of our work confirms to us that at Phergal Laboratories we are heading in the right direction and that e'lifexir products stand out in the market thanks to demanding quality controls and the real values of all our products.
In the words of our Global Marketing Manager, «let's celebrate real beauty, always seeking self-confidence in ourselves and with values of attitude, confidence and well-being in all areas of our lives»